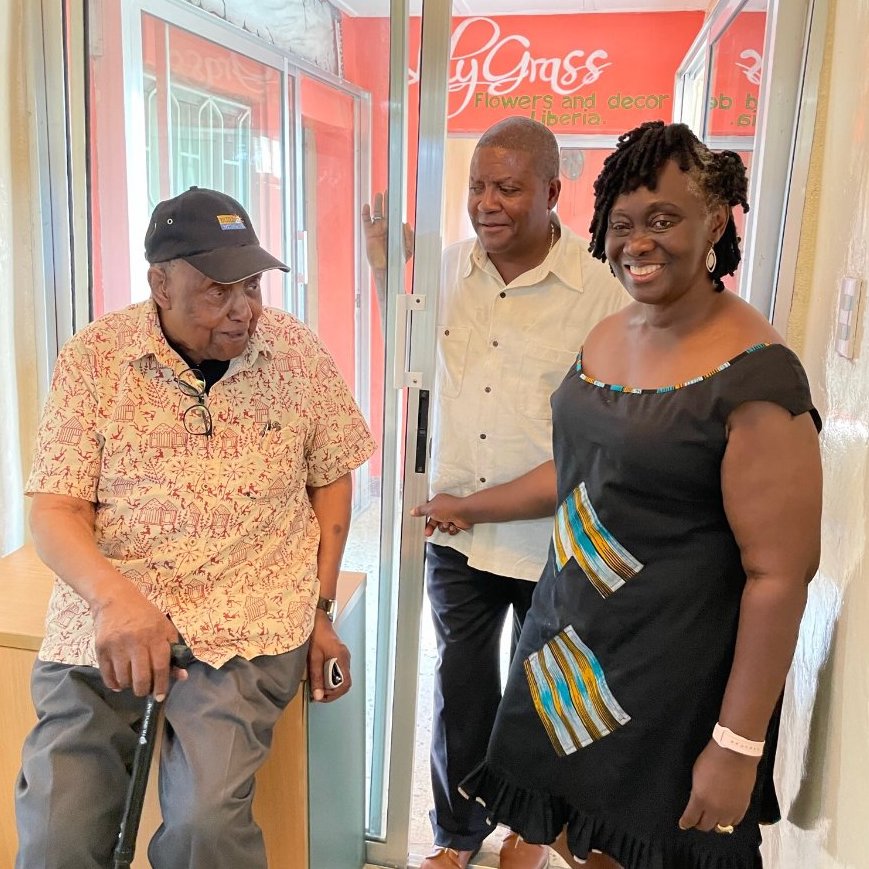 An Oven Story to Warm Your Heart!
In December, Herbert and Nancy Hopkins, two of our board members,  had the opportunity to visit Lovetie and Burke Major at this amazing non-profit in the outskirts of Monrovia, Liberia in West Africa. Over ten years, they have created a school with a community coffee and bake shop  to train people with intellectual disabilities (mostly Down's Syndrome).
In the small kitchen, students bake bread in a charcoal fired oven that also creates unhealthy smoke,  introduces the possibility of burns and uses up wood, a precious natural resource. [add photos of baking w/ charcoal oven]. A larger charcoal oven replacement allowed the bakery to Double its output. It still burns smokey charcoal.
Lovetie and Burke hope to replace the charcoal burner with a modern commercial oven that can run on LPG. A dual 220 voltage would allow for future electrical hook up as the electrical grid is unstable. A recent update took the kitchen from its original family style to a commercial kitchen with a stainless sink and racks. A new oven will complete the upgrade.
Nancy and Herbert learned why this kitchen is so important!
The recently renovated bake-shop allows the surrounding community to interact with people, especially women and girls, who were previously hidden from view or shunned. They now see them learning and doing productive work.
The kitchen also provides a daily meal to the 70 enrolled students from toddlers and up who are bussed to the preschool and day-care Monday through Friday. Learning work skills gives the trainees purpose and satisfaction. Finally, sale of baked goods helps to offset some training costs and adds to the project's sustainability.
This is the only place in Liberia where people with Down's Syndrome can come for socialization and training. The largest public hospital in Monrovia now refers children diagnosed with Down Syndrome to My Heart's Appeal. Liberia has no functioning special education program in the schools. No other organization there provides education to people with intellectual disabilities.
Backstory
My Heart's Appeal is a US and Liberian registered non-profit organization. It began when Lovetie Major, a special education teacher, retired from her job in Oklahoma. She returned to Liberia to care for her elderly mother and brought along her sister with Down Syndrome. Seeing the need to counteract the stigma in the community, she developed a haven for children and adults using personal funds and small donations. Lovetie and Burke's passion, humor and remarkable organizational skills have allowed the school to flourish and young people to bloom. In the near future they hope to open their computer training room as an Internet cafe during non school hours as another income stream to add to the sustainability of the school. For a video of their work see https://myheartsappeal.org
My Heart's Appeal inc is a non profit organization with the objective to facilitate the establishment of quality training and employment for teenage and adult persons with disabilities in West Africa. Right now, there are no laws in Liberia to help these disadvantage individuals. Lovetie Major is the founder and CEO of My Heart's Appeal. This video tells only a fragment of her amazing story and the organization's journey.
Become Part of the Story
At International-Neighbors, Inc.  a 501(c)3 non-profit, we aim to bridge the gaps for successful West African NGOs that need a little help connecting to appropriate  assistance. Although our focus is primarily on women in rural areas, we appreciate this wonderful story of how a bakery is removing stigma against people with special needs and bringing a community together!
What's needed now
A commercial bakery oven = estimate $10,000
Funds to ship and install it = estimate $2,000
To Donate
Please make checks* payable to International Neighbors, Inc.
Mailing Address
International Neighbors, Inc.
799 Roosevelt Rd, Bldg. 3, Suite 104-D
Glen Ellyn, IL 60137
*By paying with a check, there are no processing fees and deducted! 100% of your donation goes to this project.